Architectural consultancy for private homeowners.
Refurbishment of houses, flats, holiday homes and tiny houses for allotments.
Smaller buildings such as an annex or a pavilion in the backyard, the addition of orangery adjacent to the house, extension or conversion of the terrace.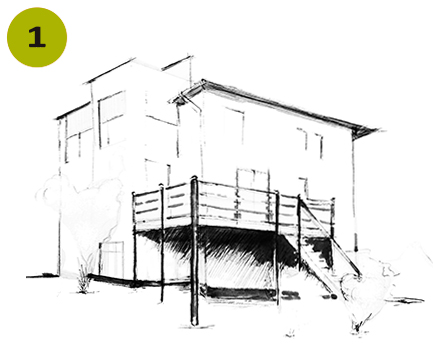 The first meeting
Before the meeting Nordicbydesign collects all relevant information about your home at the local council:
Applicable regulations such as site plans, municipal or special restrictions. Listed building category, type and style of  the building.
At the meeting, we will discuss:
Your ideas, needs, desires, requirements, limitations and priorities. What practical and specific conditions are relevant to your project. What expectations do you have to the design and requirement to the final solution.
The first meeting is free.

Based on what we agree in the meeting, we send you a time-plan and a quote.
When the offer is accepted, work on the project commences.
Surveying the house and  make drawings to scale for the planning permission.
Based on sketches and photo material from the meeting we make drawings in pdf format of the solution we have agreed. All these drawings form the basis for the planning permission.
A realistic assessment of the budget for the project.
A timeframe for the project.
The process, starting after the planning permission is approved by your municipality.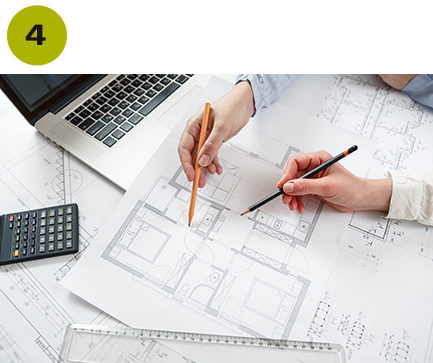 Appling for the planning permission
In order to get approval from the local municipality, it is necessary to have a complete set of drawings (plan, elevation and site plan) and to submit an application for a planning permission.
What is required to get a planning permission:
A complete set of plan drawings in AutoCad.
Specifications corresponding to regulatory requirements.
Ensure the application complies with restrictive covenant on the property, local plan and listed building consent and with possible necessary waivers or land zone applications.
We submit a digital application and follow-up at the municipality until the planning permission is granted.